Welcome to AnimalSlippers.com
Welcome to AnimalSlippers.com, your one-stop-shop for unique and comfortable slippers! Outfit your feet in the most creative and funny slippers on the market--we encourage a fun and eclectic approach to footwear. Top-quality materials and out-of-this-world customer service are just a few reasons we know you'll love shopping with us.
Whether they're a gift for someone special or a treat for yourself, our plush slippers are sure to please. But don't take our word for it, try a pair today and let the fluffy animal slippers speak, bark, meow, or hoot, for themselves!
featured collection: claws & paws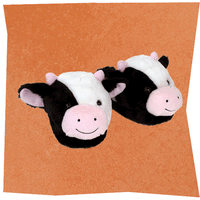 Barnyard Buddies
Moo moo! Oink Oink! Quack Quack! Shop our fun and fuzzy selection of animals from the Farm.
SHOP NOW